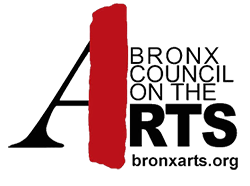 ---
Her Art Will Be Cannibal

Jan. 16 through Mar. 7, 2018

Curator: Alicia Grullón

Main Gallery
Her Art Will Be Cannibal, curated by interdisciplinary artist Alicia Grullón, is inspired by the work of the Martinique poet Suzanne Césaire and her book "The Great Camouflage: Writings of Dissent (1941-44)." Artworks in this exhibition break down patriarchy, class, and racial paradigms in contemporary contexts, re-stating and affirming the discourse of art from the view of women. Moving through photography, video, text, performance and drawing, their work serves as a manifesto, uncompromising in beliefs and identities. The exhibit highlights a narrative of humanness seldom given visibility, and allows room for the artists' visions to take over.

Participating Artists:Damali Abrams, Francheska Alcántara, Chloë Bass, Ayana Evans, Jessica Lagunas, Shellyne Rodriguez and Misra Walker. Engaging public programs will include four performances and one panel discussion with participating artists.

Image: Ayana Evans, I Carry You and You Carry Me in Martinique, Collaborative performance with
Tsedaye Makonnen as part of FIAP 2017, Forte d'France, Martinique. Digital Photography by JB Garret.
Performance Art Documentation Series.
---
Opening Reception Tue. Jan 16, 2018, 6:00-8:30pm
Performance by Damali Abrams
"Brand New Life Around the Bend" Fri. Jan 26, 2018, 6:30-9:00pm
Performance by Ayana Evans
"Drink My Kool Aid or Drink The Kool Aid" Sat. Feb 10, 2018, 6:30-9:00pm
Performances by Francheska Alcántara
"Sobre Papel y Palabras" & Chloë Bass "#sky #nofilter"" Thu. Mar 1, 2018, 6:30-9:00pm
Closing Reception + Artist Talk with Jessica Lagunas, Shellyne Rodriguez and Misra Walker, moderated by Jessica Lynne Thu. Mar 8, 2018, 6:00-9:00pm



Fall Gallery Hours
Monday:
Tuesday:
Wednesday:
Thursday:
Friday:

12:00pm - 5:00pm
12:00pm - 5:00pm
Closed
12:00pm - 5:00pm
12:00pm - 5:00pm

Closed Wednesday, Saturday. Sunday and holidays.
Wheelchair accessible
Location:
450 Grand Concourse, Room C-190
(at 149th Street)
Bronx, NY 10451
Directions:
Hostos is easily accessible by the 2, 4, and 5 IRT Trains.
Click here for detailed directions.
Phone: 718-518-6728
E-mail:longwood@bronxarts.org
This exhibition is made possible with funding from National Endowment for the Arts, NYC Department of Cultural Affairs, NYS Council on the Arts, the Joan Mitchell Foundation, the Lambent Foundation Fund of Tides Foundation, Lily Auchincloss Foundation, Hostos Center for the Arts "&" Culture, Bronx Tourism Council, Bronx Borough President Ruben Diaz Jr., NYC Council Members Andrew Cohen, Andy King, Melissa Mark-Viverito and James Vacca and the Bronx Delegation of the City Council.