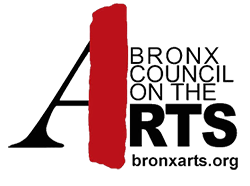 ---
Damarys Alvarez, Punks en las Calles, Photo, 2019
SUBJECT ≠ OBJECT


Curated by Alexander Campos




June 19 – August 16, 2019
Free & Open to the Public



Presented by


En Foco and the Bronx Council on the Arts are proud to present: Subject ≠ Object, featuring works of the ten 2019 En Foco Photography Fellows. This exhibition examines contemporary societal issues of race, identity, sexuality, urbanization, ecology, feminism, and politics, while continuing the dialogue of the ongoing need to expose and respond to fear of the unknown.

Participating Artists: Damarys Alvarez, Melanie Gonzalez, Jerry Lim, Ruben Ramirez, Roger Richardson, Tiffany Smith, Aaron R. Turner, Virginia Inés Vergara, Derick Whitson, and D'Angelo Lovell Williams. Curator: Alexander Campos.

RSVP on eventbrite
---
Public Events and Art Gallery Hours
Opening Reception
Wednesday, June 19, 6:00-9:00pm
Photo on the Front: Art vs Documentary - Panel Discussion
Wednesday, July 17, 7:00-8:30pm
More Info
Closing Reception
Friday, August 16, 6:00-9:00pm

Summer
Gallery Hours
Tuesday
1:00 pm
7:00 pm
Wednesday
1:00 pm
7:00 pm
Thursday
1:00 pm
7:00 pm
Friday
by appointment
Gallery Closed (college is closed): Jun. 28, Jul. 4, 12, 19, 26, Aug. 2, 9.
Closed Monday, Saturday, Sunday and holidays.
Wheelchair accessible
---
Location
450 Grand Concourse, Room C-190
(at 149th Street)
Bronx, NY 10451
Directions
Hostos is easily accessible by the 2, 4, and 5 IRT Trains.
Click here for detailed directions.
Phone: 718-518-6728
E-mail: longwood@bronxarts.org
---
This exhibition is supported in part by public funds from the New York City Department of Cultural Affairs, in partnership with the City Council, New York State Council on the Arts with the support of Governor Andrew M. Cuomo and the New York State Legislature, Arts Midwest and the National Endowment for the Arts; and City Council members Andrew Cohen and Mark Gjonaj. Also supported in part by the Booth Ferris Foundation, Ovation, New Yankee Stadium Community Benefits Fund, Hispanic Federation, the City of New York, the Department of Youth and Community Development, The Joy of Giving Something, Inc., BronxCare Health System, The Andrew Freedman Home, and private contributions. Special thanks to Hostos Community College and the Hostos Center for the Arts & Culture for their support.