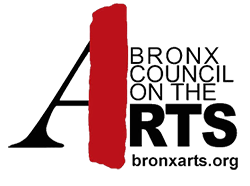 ---
Art Gallery
Swing Forward
While Swaying Back
Yelaine Rodriguez Maman Brigitte, We are here, because you were there, 2018 Concept & Costume Design by Yelaine Rodriguez. Photograph by Alexandra Muñoz.
October 3 - December 5, 2018
Free Admission
Six Bronx artists envision alternate futures through collaborative installations that provocatively and poetically challenge their audiences. Each project simultaneously draws on rich and varied art, activist, and cultural histories to search for something beyond itself - whether in relation to economies of generosity and exchange, practical information about immigration rights, or complex conversations about cultural heritage.
Artists

Alicia Grullón
Blanka Amezkua
Fran Ilich
Francheska Alcantara
Walter Cruz
Yelaine Rodriguez

Curator

Amanda McDonald Crowley
A collaboration between the Hostos Center for the Arts & Culture, the Bronx Council on the Arts,
and the Bronx Arts Alliance.
---
Art Gallery Events and Public Events
Public Program
Wed., Nov 28, 5:00 pm — 7:00 pm

As part of the exhibition artist Fran Ilich's Diego de la Vega Coffee Co-op: Against the Walls of Capital connects social justice movements in the States with their peers in Chiapas, Mexico, and draws inspiration from Zapatista forms of indigenous organization and autonomy to fuel New York based movements. Fran Ilich and Gabriela Ceja welcome visitors with cups of organic coffee grown locally in Chiapas farms and donated by the Ejército Zapatista de Liberación Nacional (EZLN) to inspire migrants in the EEUU to find paths to organize, resist, and create sustainable alternative economies modeled on ancient modes of exchange. Visitors can also take part of the ancient economic game ritual of Patolli and engage in conversations over coffee with the Diego de la Vega Experimental Economies and Finance research group.
Closing Reception
Wed., Dec 5, 5:30 pm — 8:30 pm

Performance beginning at 7:00 pm

"We Are Here, Because You Were There" a site specific activation by Bronx Based collaborative Yelaine Rodriguez, Melaine Gonzalez, Benton C Bainbridge.

For the exhibition finissage, Maman Brigitte will come alive in a projected environment of translucent fabrics. The performance is inspired by a quote by cultural theorist Stuart Hall and is a commentary of the existences of a new Black culture created from The New World. Concentrated in Haitian and Dominican roots and traditions this performance looks at Maman Brigitte, the death loa in Voodoo, the protector of cemeteries and graves. She guards spirits in transition from life to their death. Maman Brigitte is from an ongoing series which celebrates the Loa in costume, dance and events. Rodriguez, Gonzalez, Bainbridge make mixed media, installations, and performances at the intersection of wearable art, performance art, and media art. Conceptual design/sculpture by Yelaine Rodriguez, live video projection visuals by Melanie Gonzalez, and media design by Benton C Bainbridge.
Fall 2018
Gallery Hours
| | | |
| --- | --- | --- |
| Tuesday | 1:00 pm | 7:00 pm |
| Wednesday | 1:00 pm | 7:00 pm |
| Thursday | 1:00 pm | 7:00 pm |
| Friday | 1:00 pm | 7:00 pm |
Closed Monday, Saturday, Sunday and holidays.
Wheelchair accessible
---
Location
450 Grand Concourse, Room C-190
(at 149th Street)
Bronx, NY 10451
Directions
Hostos is easily accessible by the 2, 4, and 5 IRT Trains.
Click here for detailed directions.
Phone: 718-518-6728
E-mail: longwood@bronxarts.org
---

This exhibition is made possible with funding from National Endowment for the Arts, NYC Department of Cultural Affairs, NYS Council on the Arts, the Joan Mitchell Foundation, the Lambent Foundation Fund of Tides Foundation, Lily Auchincloss Foundation, Hostos Center for the Arts "&" Culture, Bronx Tourism Council, Bronx Borough President Ruben Diaz Jr., NYC Council Members Andrew Cohen, Andy King, Melissa Mark-Viverito and James Vacca and the Bronx Delegation of the City Council.