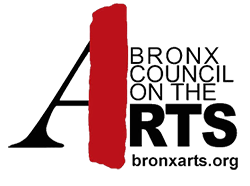 ---
VIRTUAL EXHIBIT
Confidence in the Future, presented by the Bronx Council on the Arts at the Longwood Art Gallery @ Hostos, is an exhibition of Bronx artists working in diverse mediums and formats around questions of how to imagine the future, and who gets the right to envision what it may look like. The show explores what it means to build the future we want to see; dystopian or utopian realities, perhaps as a result of drastic climate change; and different ways of paying homage or respect to histories of resistance, whether interpersonal or societal, which inspire artists in the present. Artwork themes include black and brown futurism, exploring personal archives, and reimagined use of recycled materials. The exhibition was curated collectively by staff of the Bronx Council for the Arts.
Curated collaboratively by the Bronx Council on the Arts staff, Rebecca Pristoop and Arianna Reyes
Participating Artists
Charlie Lirano | Daisy Fergusson | Dennis Redmoon Darkeem | Francisco Osorio | Kathleen Greany | Kim Dacres | Toisha Tucker | Tammy Wofsey
---
AN OPEN CONVERSATION WITH THE ARTISTS AND NOS QUEDAMOS
Wednesday, March 27 | 6:00pm -7:30pm
Join us for an open conversation with the artists of Confidence in the Future, and the community advocacy organization Nos Quedamos. We will discuss how Covid-19 is affecting the ability to live a sustainable life in The Bronx, exploring individual and collective perspectives on life, art, and community in the borough now. The program will feature artists Kim Dacres, Toisha Tucker, Charlie Liriano and Kathleen Greaney, along with Jessica Clemente, CEO, Nos Quedamos. RSVP below! Learn more about Nos Quedamos here.

Register for Event
Spring Gallery Hours
Due to COVID-19 concerns, the Gallery is closed until further notice
Monday
Closed
Tuesday
12:00 pm
6:00 pm
Wednesday
12:00 pm
6:00 pm
Thursday
12:00 pm
6:00 pm
Friday
12:00 pm
6:00 pm
Wheelchair accessible
---
Location
450 Grand Concourse, Room C-190
(at 149th Street)
Bronx, NY 10451
Directions
Hostos is easily accessible by the 2, 4, and 5 IRT Trains.
Click here for detailed directions.
Phone: (718) 518-6728
E-mail: longwood@bronxarts.org
---
The Bronx Council on the Arts is supported, in part, by public funds from the New York City Department of Cultural Affairs in partnership with the City Council; New York State Council on the Arts with the support of Governor Andrew M. Cuomo and the New York State Legislature; Arts Midwest and the National Endowment for the Arts; The Coalition of Theaters of Color and City Council members Andrew Cohen and Vanessa Gibson. Also supported in part by the Booth Ferris Foundation, Ovation, the New Yankee Stadium Community Benefits Fund, Con Edison, the Hispanic Federation, the City of New York, and the Department of Youth and Community Development. Special thanks to Hostos Community College and the Hostos Center for the Arts & Culture for their support.